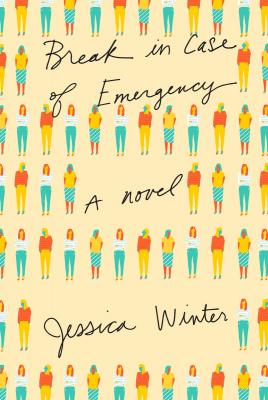 Savoy Bookshop and Café presents an author talk with Jessica Winter, in conversation with Savoy's event coordinator, Elissa Englund, about Jessica's new book Break in Case of Emergency at Artists' Cooperative Gallery of Westerly. This event will be held on Wednesday, July 13, at 7 p.m. Suggested donation is $5.
About the Book
An irreverent and deeply moving comedy about friendship, fertility, and fighting for one's sanity in a toxic workplace.

Jen has reached her early thirties and has all but abandoned a once-promising painting career when, spurred by the 2008 economic crisis, she takes a poorly defined job at a feminist nonprofit. The foundation's ostensible aim is to empower women, but staffers spend all their time devising acronyms for imaginary programs, ruthlessly undermining one another, and stroking the ego of their boss, the larger-than-life celebrity philanthropist Leora Infinitas. Jen's complicity in this passive-aggressive hellscape only intensifies her feelings of inferiority compared to her two best friends—one a wealthy attorney with a picture-perfect family, the other a passionately committed artist—and so does Jen's apparent inability to have a baby, a source of existential panic that begins to affect her marriage and her already precarious status at the office. As Break in Case of Emergency unfolds, a fateful art exhibition, a surreal boondoggle adventure in Belize, and a devastating personal loss conspire to force Jen to reckon with some hard truths about herself and the people she loves most.

Jessica Winter's ferociously intelligent debut novel is a wry satire of celebrity do-goodism as well as an exploration of the difficulty of navigating friendships as they shift to accommodate marriage and family, and the unspoken tensions that can strain even the strongest bonds.
About the Author
Jessica Winter is features editor at Slate and the former culture editor of Time. Her writing has appeared in The New York Times, The Guardian, Bookforum, The Believer, and many other publications. She lives in Brooklyn.
Event date:
Wednesday, July 13, 2016 - 7:00pm
Event address:
Artists' Cooperative Gallery of Westerly
7 Canal St.

Email or call for price.
ISBN: 9781101946138
Availability: Special Order
Published: Knopf Publishing Group - July 12th, 2016
"A funny and moving commentary on that point in a woman's life when everything seems to come into question." --Camille Perri, The New York Times

"It's the superb insights and penetrating writing that make this book remarkable... An extraordinary debut." --The Guardian

"Enthralling, sharply observed" --Marie Claire
---