Bank Square Books presents an author presentation and book signing with bestselling author and illustrator Jan Brett for her new picture book The Tale of the Tiger Slippers. Jan's presentation and drawing demonstration will begin at 5:00 at Mystic Congregational Church and will be followed by a book signing. Tickets for this event are $5, which can be applied to the purchase of a book at the event. Seating is on a first come, first served basis, and while we will try to accommodate everyone's signing request, if we do run out of time, we will provide a signed bookplate in lieu of a personalized book. Click the link below to purchase your ticket.
About the Book
Jan Brett reimagines a powerful Middle Eastern folk tale that celebrates hard work and appreciating your roots.

Set in India, this gorgeous reimagining of the classic Middle Eastern folk tale "Abu Kassem's Slippers" features a poor tiger cub who is a very hard worker. His mother weaves him slippers to protect his feet from stones and thorns, and they allowed him to prosper--first making bricks, then building houses, and eventually becoming very wealthy. He continues to wear them until someone questions why such a prominent person would wear such worn shoes. Feeling embarrassed, Tiger tries to get rid of the slippers, but fate keeps bringing them back.

Finally, Tiger sends them to his uncle, who weeps with pride when he sees the slippers his sister made and his nephew used to accomplish so much. He sets off right away to visit them, bringing the slippers along. Tiger can't believe the slippers are back again, but his little cub gives him an idea: honor the slippers by building a special place for them, to remind him of how far he's come.

Jan Brett's lush, vibrant version of this story will inspire fans of her international retellings to appreciate the hard work that leads to all of their successes.
About Jan Brett
Jan Brett lives in a seacoast town in Massachusetts close to where she grew up. During the summer, her family moves to a home in the Berkshire Hills. She is a New York Times #1 bestselling author/illustrator, one of America's most popular, with over 40 million books in print, and has brought to life lovable characters and imaginary backdrops for children for more than 30 years. Her illustrations are adored for their classic beauty and vibrant, life-like images of animals, landscapes, and flourishes from cultures around the world. As a child, Jan Brett decided to be an illustrator and spent many hours reading and drawing. She says, "I remember the special quiet of rainy days, when I felt that I could enter the pages of my beautiful picture books. Now I try to recreate that feeling of believing that the imaginary place I'm drawing really exists. The detail in my work helps to convince me, and I hope others as well, that such places might be real." While Jan is most known for her children's books, she is also an award-winning breeder of ornamental fowl (fancy chickens!). Some of her best book ideas come from other interests including extensive travel and exploration of the natural world, marathon training, and while listening to the Boston Symphony Orchestra, where her husband is a musician.
Event date:
Monday, September 16, 2019 -

5:00pm

to

7:00pm
Event address:
Mystic Congregational Church
43 East Main St.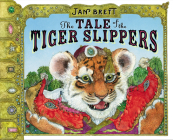 $18.99

ISBN: 9780399170744
Availability: On Our Shelves Now
Published: G.P. Putnam's Sons Books for Young Readers - September 17th, 2019
Jan Brett reimagines a powerful Middle Eastern folk tale that celebrates hard work and appreciating your roots.

---