Bank Square Books presents a storytime featuring authors Jeannette Bradley (Something Great), Gaia Cornwall (The Best Bed For Me), and Lesley Breen Withrow (Maximillian Villainous).
---
About Something Great
Blending STEM activities with mixed-media illustrations, this thought-provoking story follows Quinn as they create Something Great, which could be anything the reader wants it to be--even a friend finder.

About Jeanette Bradley
Jeanette Bradley has been an urban planner, an apprentice pastry chef, and the artist-in-residence for a traveling art museum on a train. Now she writes, draws, and makes books for kids. Her books include Something Great; No Voice Too Small; No World Too Big; Love, Mama; and When the Babies Came to Stay. Jeanette lives in Rhode Island with her wife and kids.
About The Best Bed For Me:
"Mama and Mommy would like Sweet Pea to settle into bed, but it's not quite time. Even though the bed is fluffy, it's not as snuggly as curling up like a pig in the mud, or as spacious as sleeping in the wide ocean like a blue whale. It's not as fun as sleeping high up in a tree like a koala, or hanging upside down like a bat. And it's definitely not as relaxing as sleeping standing up, like an emperor penguin. But after mimicking all the ways different animals rest, this little one concedes that a comfy bed, a soft pillow, and a good-night wish offer the best way to fall asleep after all."
About Gaia Cornwall
Gaia Cornwall loves to write and illustrate for children. She is the author-illustrator of Jabari Jumps, her debut picture book, which was a Charlotte Zolotow Honor Book and an American Library Association Notable Children's Book, as well as its follow-up, Jabari Tries. Gaia Cornwall lives in Vermont.
About Maximillian Villainous
Little monster Maximillian Villainous doesn't have the heart to be a villain. When he brings home a bunny, Max's mother challenges them to become a devious duo. To stay together, Max and the bunny have no choice but to go against their nature in this empowering story about embracing one's true self and finding acceptance.
About Lesley Breen Withrow
Lesley Breen (she/her) is an artist and illustrator whose artwork can be seen on many products including children's books, stationery items, children's apps, and toys. She is the illustrator of You're My Boo, Kate Dopirak (September 2016, Beach Lane Books/Simon & Schuster) and is also the illustrator of Bunny Bus, Ammi-Joan Paquette (Winter 2017, Farrar Straus Giroux). Her sample illustration was the inspiration for the book Bunny Bus. Lesley lives with her family on beautiful Cape Cod. Learn more about her at lesleybreenwithrow.com.

$16.99

ISBN: 9780762462971
Availability: Available at One of Our Locations
Published: Running Press Kids - August 28th, 2018
For anyone who loved Leonardo, the Terrible Monster,this is a humorous and important book about learning to follow your heart and proving that kindness can outweigh villainy any day.

---

$18.99

ISBN: 9781646141715
Availability: Available at One of Our Locations
Published: Levine Querido - October 11th, 2022
Named a Best STEM Book by the National Science Teachers Association

Voila! Quinn spent the morning in their workshop, and they emerged with Something Great! But… What is it?

No one seemed to understand that Something Great isn't supposed to be anything. It was just… itself.
---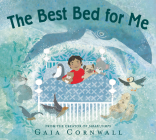 $17.99

ISBN: 9781536207156
Availability: Available at One of Our Locations
Published: Candlewick - May 17th, 2022
From the creator of Jabari Jumps and Jabari Tries, the tale of a stalling child with a lively imagination—and a passion for animal facts—makes for the best kind of bedtime story.

---
Saturday, June 3, 2023 - 11:00am
Bank Square Books
53 West Main Street